Favorite Things.....
Elegant Note Cards make great holiday gifts....

I prefer a hand written note versus a hallmark card any day. Note Cards are special ways to relay messages, congratulations, encouragement and ultimately express gratitude.
Note Card prices can range from $2 in the clearance section at Target to about $25 and up (per set) for the discriminating note writer at outlets such as
Papyrus
or
Kates Paperie
.

I'm absolutely smitten with Hi-Heeled Designs gorgeous notecards, invitations and personalized stationery that you can find at your local Marshalls or TJ Maxx Stores for around $4-$6.

This season why not send a handwritten note card or opt for the usual holiday greeting card. Whatever you desire to send or not send please, please do not send those dreadful singing, animated e-cards......Extremely Tacky & Cheap.
Cards By Karlum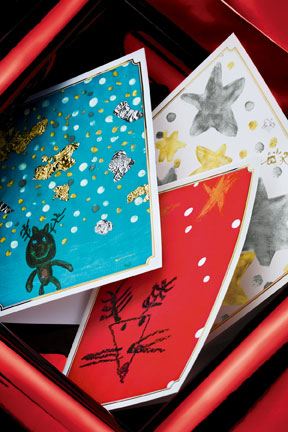 MAC's Kids Helping Kids cards feature 12 holiday cards and envelopes created by children for the Kids Helping Kids program. Every purchase will benefit Pediatric AIDS. MAC, $6.00
Historic Patterns set of 8 cards and envelopes $12.00, B Designs
Here are a few Note Card tips:
Select the finest pen you have, preferably a roller ball pen instead of a ballpoint pen.


Make sure to write the name of the recipient in the salutation.


Include a personal message in a card for a close friend or relative.


Refer to the occasion, the gift or simply your relationship.


Consider including the lines of an appropriate poem, quote or song to give the card a special message.