It's In The Bag.....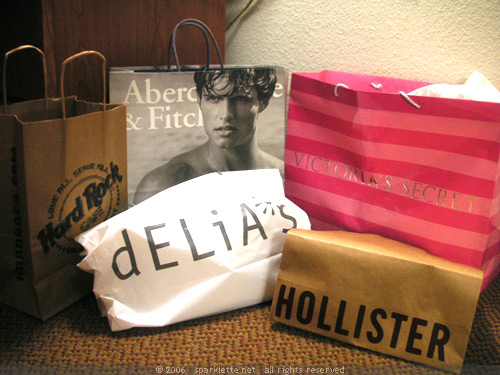 Fashionistas

,

Hav

e you

ever held onto that glossy Lord & Taylor shopping bag or the cutesy Henri

Bendel

shopping tote?
The New York Times
reports
on the latest obsession,
The Free Shopping Bag.......
The bags with a store's logo on it. Stores are scrambling to make their shopping bags durable and cute so that customers will re-use it and display the store's logo when they do.
Retailers like
Macys
, Juicy Couture,
Abercrombie
& Fitch and Scoop are investing millions of dollars in new flourishes like plastic-coated paper and heavy fabric cord handles.
Behind the battle of the bags is a significant shift in behavior that has turned
fashionistas
into walking billboards for stores. In cities like New York, Chicago and Los Angeles, customers have begun treating shopping bags as disposable purses that can be reused for weeks, if not months, to carry laundry to the cleaners, or lunch to the office.
But only the best bags make the cut.
.......
Try re-using a Gap bag, better yet pray it doesn't deteriorate before you get home. Lord and Taylor shopping bags are stylish and durable. But

Bergdorf

Goodman & Victoria's Secret is by far the favorite.
So next time you visit a premier luxury retailer, don't think for a second they spent 80 cents on that shopping bag just so that you can carry your purchases home in style........
It's just creative marketing sweeties....