My Payless Experience.....
Abaete, Lela Rose, Patricia Field at Payless.....
Today I decided to take a peek at the designer creations at
Payless
Shoe Store. I have a love hate relationship with the wallet friendly shoe outpost. I've tried on a Payless casual flat here and there and even bought some cute suede boots in 2006 for $5. Despite my stylish finds my sub-conscious readily reminds me of the man made souls, synthetic fibers and weird rubber shoe smell each time I enter a Payless Store.
Inquisitive about all the hoopla surrounding my
myspace BFF
Pat Field
, I decided to check out the "BOGO" retailer for myself.

It was around 10:15am, the store just opened and was surprisingly neat. Upon my arrival I was greeted by a friendly & stylish sales associate (meant to get a photo) inquiring if I needed any assistance. When I asked her for the Patricia Field Collection, she quickly asked my size and returned with an amazing pair of platform sandals.
I must admit, I was a little impressed. The "Tempura" shoe was signature Pat Field chic and even the glossy pink box reminded me of some of her window displays in her former boutique in the village. The platform heels with an ankle strap are made with an edgy green metallic snakeskin patterned material.
After snapping a few photos I tried them on and they looked really cute
minus the security tag.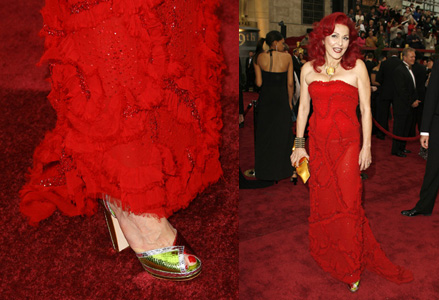 Pat even wore her signature collection to the 79th Annual Academy Awards.
I Couldn't leave without my Blue Suede Shoes....... I saw these suede booties on the Payless website in black. These $26.99 gems are so worth it..... Not only are they cute, they felt good. No really, they felt good...kind of like cushion was inside. I can definitely see myself rocking these with a sweater dress & tights or just running around in my jeans with the kids.
After much consideration, I decided to pass on the booties....I am such a diva and so afraid everyone would know I was wearing Payless Shoes. I even felt a little weird walking in the store with my full length mink coat (yes, Ms. Tres Chic wears fur & makes no apologies for it) and my ridiculously priced designer handbag.
Fashionistas, I learned a great lesson today. It's simple, Payless Shoes are Cute! I absolutely adore fashion and while my taste typically steers me to luxury designer brands I may be inclined to do the Payless thing every now and then. And as far those "Blue Suede Shoes", I just ordered them along with the "Tempura's" online and hopefully they'll be here by the weekend.....
Currently Payless has the BOGO Promotion (Buy 1, Get 1 Half-Off), until 12/10.
Pssst.....The Patricia Field Collection is a Limted Holiday Edition, so get to a Payless soon.