Stylist Tip of the Day......
Buying well means only buying once.
Fashionistas
tend to spend more on trendy items and less on the basics. This is a
Bad
idea. Invest in the clothes you wear most by buying the best.
Here are a few key items every fashionista should have in her closet......
While Christian Louboutin's or Manolo Blahnik's may not be in your budget, affordable designer shoes can always be found at Zappos and those wildly popular sample sales......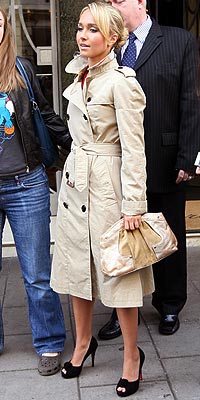 Outerwear makes a statement and when it's the right coat it can simply scream Fabulous....
Trench Coats have always been a wardrobe staple. The structured silhouette can be paired with a great shoe and handbag for a stunning overall look.

A great handbag, preferably leather
(it can withstand wear & tear better).
Gucci and Coach logos don't always qualify as a
"better"
handbag. Trendy of the moment bags normally lose their lack luster after a few months, the key is to splurge on a bag you'll absolutely adore forever....
An amazing watch......... think classic gold or stainless steel, while the trendy DKNY, Guess or J Lo watches compliment our styles of the moment, A classic time piece can stand the test of time and look great too.......